As our pastor-elders focus on 'equipping the saints' through Bible teaching, and intentional discipleship, our church members begin to recognise their God-given giftings, which then leads them to channel their efforts in specific areas of ministry, training, and mission.
In addition to mid-week Bible studies, prayer meetings, and men's/women's groups,
there are some other specific areas of ministry that our church is involved with,
which involve both training and outreach.
Evangelism Training
We provide evangelism training for believers, teaching them how to communicate the Gospel in a complete and understandable kind of way. Following the initial training, we provide opportunities for on-the-job training, six days per week, through which believers get to observe real-life Gospel conversations taking place, at various places around Christchurch.
As the believer begins to gain confidence, the trainer will slowly begin handing the conversations over to them, while being present for the whole time, as/when assistance is needed. Once a person is trained in evangelism, it will give them confidence to share the Gospel with others in their immediate lives (i.e. family, friends, co-workers, neighbors), along with the option of taking part in the many outreaches we organise throughout the year.
We also provide evangelism training for other churches, with the permission of the pastor-elders of that church.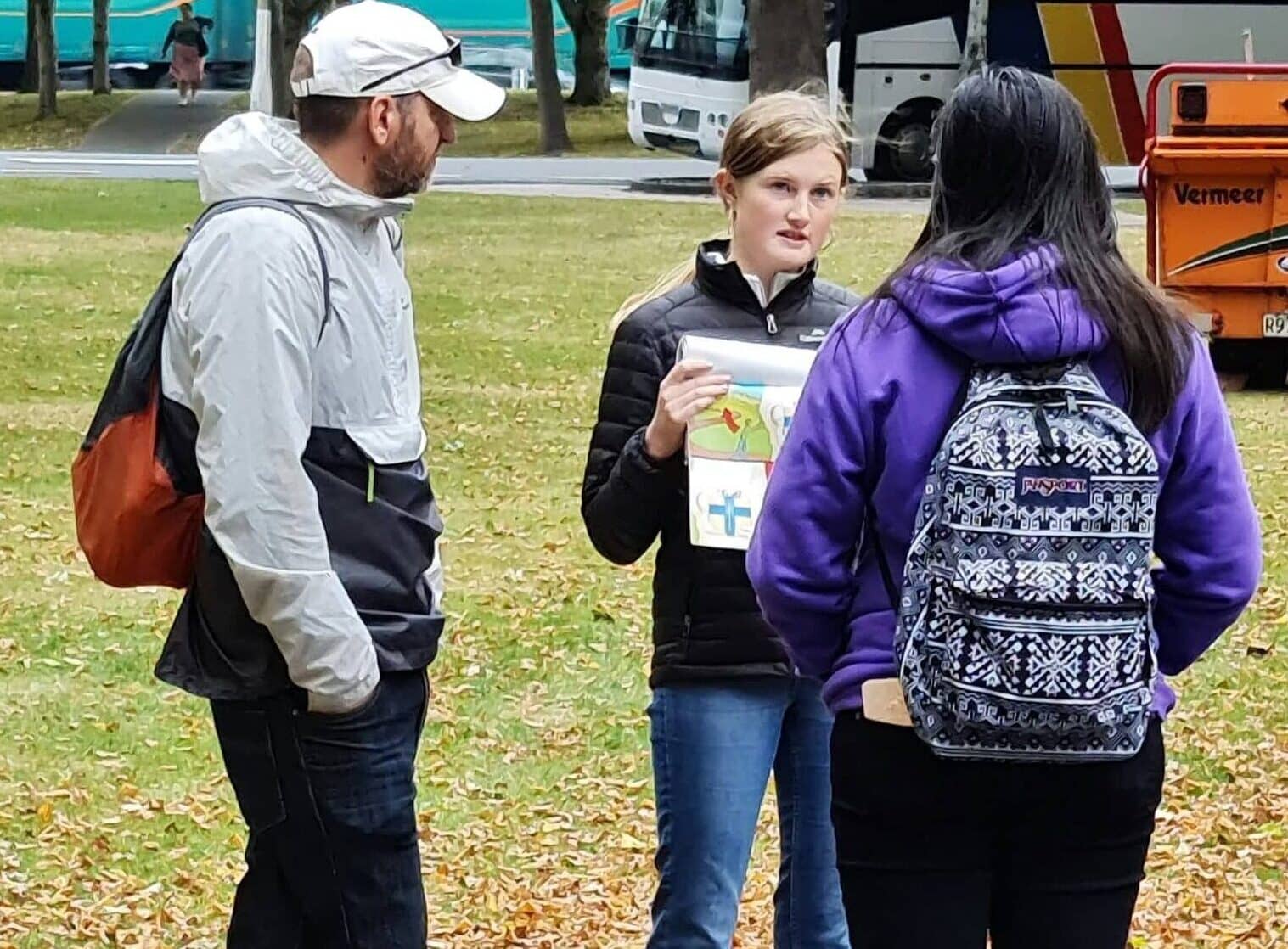 Biblical Counseling Training
While there are many needs and struggles in the lives of those around us, we agree with what God's Word teaches,
that Scripture is completely sufficient to meet every one of those needs.
In saying this, it is helpful to have specific training, so that believers can take the truth of God's Word, and appropriately apply it to the struggles that others may be going through. This is where Biblical counseling training comes into it. Not only does our church provide Biblical counseling, but we also help those who would like to become trained as Biblical counselors. The organisation that facilitates the process of becoming a certified Biblical counselor is The Association of Certified Biblical Counselors (ACBC).
As a church, we provide the required resources, training materials, and support, as a person pursues certification.
Expository Preaching Training
We believe that sound, biblical preaching and teaching is one of the greatest needs in our day.
It is for this reason, we provide training for men to learn how to rightly divide the Word of God. Starting with a text of Scripture, we take men through a step-by-step process of rightly handling God's Word, extracting the original intended meaning of the passage, while making application based upon the truth that is presented.
Whether a person wants to be trained to preach expository sermons from the pulpit, or to lead Bible studies, our Expository Preaching training will help take one's study of God's Word to the next level.
Leadership Development for Men
We provide leadership development training for men through a group which we call '2 Timothy 2:2'.
The main purpose of this training, is for men to learn what it means to be a spiritual leader, while providing pathways for them to gain on-the-job ministry experience within our church. Throughout the process, men are given a variety of opportunities to serve, as they seek to better understand how God has gifted them.
Ministry/Pastoral internships are available for those who have both the desire and time to pursue greater responsibilities. Either way, we desire that every man in our church has the opportunity to be encouraged in their God-given responsibilities within the church and the home.
Pro-Life Outreach
In response to the barbaric abortion laws that our Government has passed, our church is involved with upholding the sanctity of life in very practical ways.
We provide education and pro-life apologetics training, that relate to the personhood of the pre-born.
We have a weekly hospital outreach, where we offer help to expectant mothers, while dialoguing with people about the sanctity of life.
We help to organise citywide pro-life events which bring political awareness to realities of abortion.
We offer practical help to expectant mothers, by providing baby clothes, nappies, and baby gear for those who are struggling financially.
We provide post-abortion counseling for mothers and fathers, who are struggling with guilt, letting them know that there is healing and forgiveness through Jesus. Although the need is far greater than what our church can help with, we feel compelled to do whatever we can.
Theological Training
Although our church provides sound theological teaching on Sunday mornings, and during mid-week Bible studies, some believers feel as though they would like to pursue more intensive study, in preparation for future ministry.
Our church members have access to a scholarship, to help with the cost of formal seminary training.
Where possible, we recommend for people to pursue online courses, so that they can balance out the formal study, with practical service within the context of the local church.
In addition to this, we also partner with the Ministry Training Program of the Fellowship of Reformed Baptist Churches of New Zealand, who run 4 one-day block courses across each year.
Missions in Myanmar
In 2018, members from our church began to partner with Operation 513, in doing short term missions trips to Yangon, Myanmar, in which the primary focus was active evangelism, with the help of translators.
During that time, we met a young Burmese couple (Joshua and Jemimah) who had started an orphanage by faith without any financial support, who were evangelistic, and who hoped to start a church. Our relationship with Joshua has continued, even beyond the team's trips to Myanmar.
What has eventuated since then, is that our church started to financially support Joshua in doing 30-hours of active evangelism per week, along with paying the rent for an upgraded housing facility for his orphanage.
We have the privilege of visiting with them, each time a team does a short term mission trip to Yangon, where we get to see the great work which they are doing.